Whether you're an avid traveler looking for new experiences or a bucket list enthusiast searching for unique places to explore, this post is for you. Put together, here are some of the most unique destinations sure to get your blood pumping, your heart racing, and your spirit soaring. Get ready to add these one-of-a-kind destinations to your travel and adventure bucket list!
1. The Great Wall of China
This iconic wonder may be the most recognizable destination on our list, but that doesn't mean it lacks uniqueness. Spanning over 5,500 miles across northern China, the Great Wall is still considered one of history's most impressive engineering feats.
Visitors can hike along parts of the wall or take a cable car ride right up to its highest point at Jinshanling. You can also opt to explore some of the wall's lesser-known sections, like Jiankou or Gubeikou, where you can experience an even more authentic atmosphere.
No matter what part of the wall you choose to explore, you'll be sure to have a unique adventure! You can even sign up for a stay at a camp on the wall and enjoy an unforgettable night under the stars.
2. Zion National Park
If you're looking for a truly unique experience, look no further than Zion National Park ATV tours. Tour Zion on an ATV and explore its awe-inspiring canyons, rivers, and narrow trails that wind through the park.
You'll also get to take in some breathtaking views of the top of the canyons as you wind your way through the terrain. If you're looking for an exciting and unique outdoor adventure, then this is definitely a bucket list item to add to your travel plans!
In addition, you can also take a unique night tour of the park and explore its mysterious side after dark. Trek through the backcountry paths and enjoy the peacefulness of exploring a place usually bustling during daylight hours.
3. The Gobi Desert
This desert is known for its extremely hot and cold temperatures and many dunes and sandstone formations covering parts of Mongolia and northern China. But don't let these elements dissuade you.
There are plenty of activities available here, like camel rides, stargazing (due to little light pollution), trekking through sand dunes, or even visiting some historic sites like monasteries or ruins of ancient cities from forgotten times past. If you're up to it, there are even some great archaeological digs available in the area!
To come prepared, make sure to bring plenty of water and sunscreen, as well as warm clothes for nighttime. With its extreme temperatures, the Gobi Desert offers a unique experience that will stay with you forever!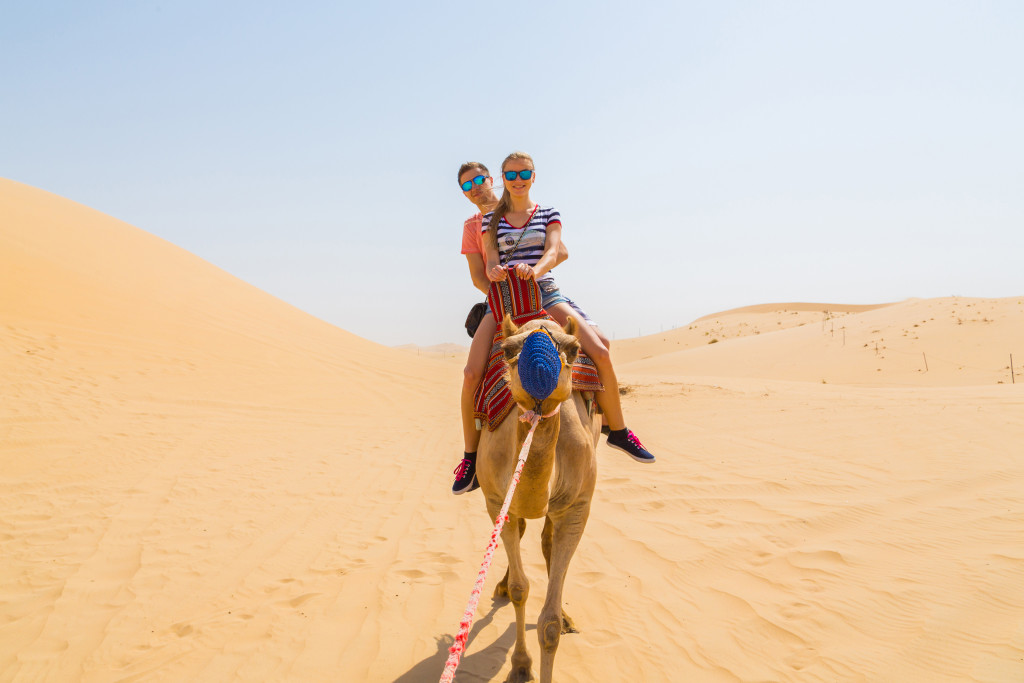 4. Mendenhall Glacier in Alaska
For a different kind of adventure, head to Mendenhall Glacier in Alaska. This 13-mile-long glacier is situated near Juneau and offers some amazing views of the Tongass National Forest and incredible outdoor exploration opportunities.
You can explore the glacier's many crevices and ice caves on foot or take a guided tour of an iceberg-filled lake. If you're feeling brave, you can even go ice climbing and explore the hidden gems that are only accessible from within the glacier!
No matter your choice of exploration, Mendenhall Glacier is sure to provide a unique and unforgettable experience. Whether it's for its breathtaking views, adventure activities, or its intriguing history, this is definitely one place you should add to your travel and adventure bucket list.
5. Salar de Uyuni
One of Earth's greatest natural wonders is also the largest salt flat in the world at 11,000 square miles! Salar de Uyuni lies in southwest Bolivia near the crest of South America's Andes Mountains.
It looks like a sea made out of salt with virtually no landmarks visible by foot across its entire expanse, so visitors must look skyward if they want any sense of direction or orientation while exploring this wide white expanse!
Furthermore, a thin layer of water covers the salt flats during the rainy season, creating an otherworldly mirror-like effect. It's hard to believe such a unique and surreal sight exists on Earth!
6. The Amazon Rainforest
One final destination that should not be overlooked is none other than South America's Amazon Rainforest — home to over two million species (many still undiscovered), making it one of Earth's greatest biodiversity hotspots!
Trek through lush jungles full of exotic creatures before experiencing a traditional indigenous village tour complete with all sorts of local amenities, such as boat rides down winding rivers, sampling native cuisine, and more!
Once you're done exploring, take some time to relax in the world's largest treehouse, a two-story structure built right into the trees of the rainforest canopy. With breathtaking views and even more wildlife sightings, you'll be sure to have an unforgettable adventure!
There you have it — six incredible destinations sure to drop any adventurer's jaw! From deserts where dunes stretch out into infinity to rainforests teeming with life just waiting to be discovered — these amazing locations are sure to provide memories that will last a lifetime no matter who you are! So what are you waiting for? Start planning your next great adventure today!