It's never too late to start living a stylish life. Even if you're sixty years old, you can still do plenty of things to make yourself look and feel fabulous. In this article, we'll give tips on how to age beautifully with style. So read on and get inspired.
Pamper Your Skin
No matter how old you are, taking care of your skin is essential. This means cleansing, exfoliating, and moisturizing regularly. It's also a good idea to wear sunscreen every day, even if you're just staying indoors.
The skin on your neck is just as delicate as your face, so don't forget to pamper it too. Use the same cleanser, exfoliator, and moisturizer you use on your face.
Choose makeup that's also skincare. Liquid and cream formulations are more flattering for older skin. Stay away from powders because they can settle into fine lines. Choose spring-like colors for a fresh look. These simple steps will help keep your skin looking young and radiant.
Keep Your Teeth Healthy
Your smile is one of the first things people notice about you, so taking care of your teeth is essential. Brush and floss regularly, and see your dentist for checkups and cleanings every six months. Invest in a good whitening toothpaste or have your teeth professionally whitened. This will help you achieve a youthful-looking smile.
If you lose a tooth, don't settle for dentures because they can be uncomfortable and even cause mouth sores. Also, they limit the types of food you can eat. Instead, get dental implants from your dentist. These permanent tooth replacements function, feel, and look like your natural teeth. You won't need to change the food you eat and your smile will be just as beautiful.
Get a Flattering Haircut and Color
Your hair is one of your best accessories, so make sure it looks great. Go for a flattering haircut that frames your face nicely. If you're unsure what style to choose, ask your stylist for recommendations.
It's also essential to choose the right hair color. If you've been coloring your hair for years, you might want to consider going natural. Embrace the gray and rock it with confidence. If you're not ready to let go of color, try highlights or lowlights instead. These will help give your hair some dimension and make you look more youthful.
Dress Your Age Appropriately
Being sixty doesn't mean you have to start dressing like your grandmother. On the other hand, avoid clothes with too many frills or embellishments. Stay away from fads and trends that come and go.
There are plenty of stylish clothes for women your age. Invest in well-made garments that flatter your figure and make you feel good about yourself. Stick to classic colors pieces that will stand the test of time and colors that enhance your natural skin color.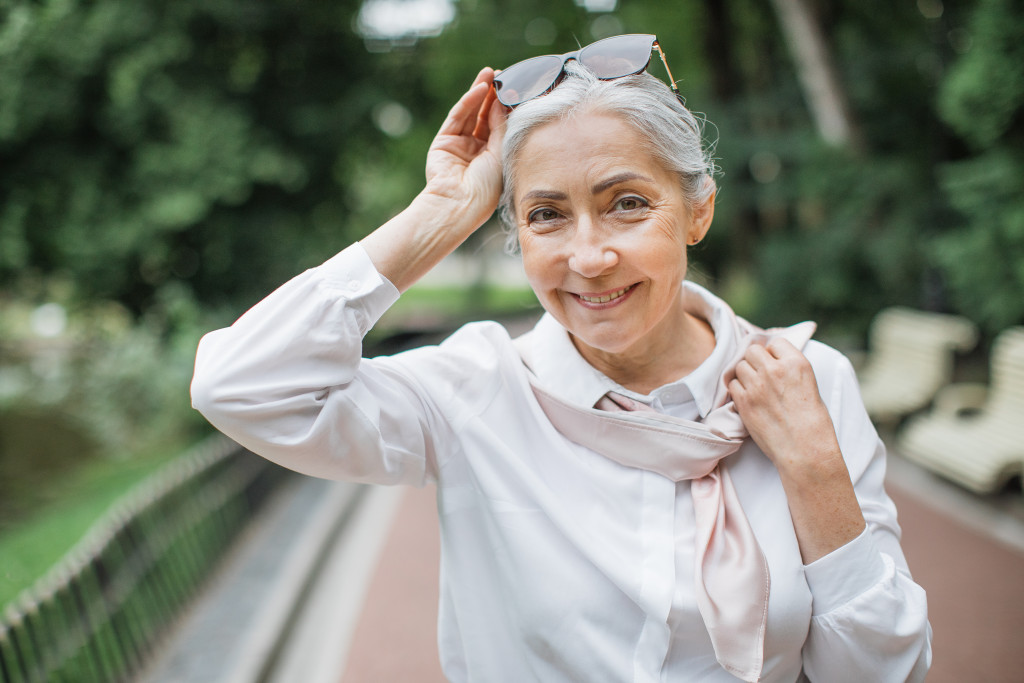 Accessorize wisely. Less is more when you're sixty. Choose one or two statement pieces instead of wearing a bunch of small ones. A bit of jewelry, a scarf, or a handbag can help add some pizzazz to your outfit without making you look overdressed.
Keep Yourself Fit
It's essential to stay fit and active even when you're sixty. Exercise for at least thirty minutes a day, five days a week. This can be anything from going for a walk to taking a dance class. Regular exercise will help improve your overall health and make you feel better.
It's also essential to eat healthy as you age. Make sure to include plenty of fruits, vegetables, and whole grains in your diet. Limit your intake of saturated fats, trans fats, and cholesterol. And drink plenty of water to keep yourself hydrated.
Socialize and Stay Connected
One of the best ways to stay young is to socialize and stay connected with people. Stay in touch with your old friends. Join a club or take a class to help you meet new friends and keep your mind active.
Another great way to stay connected is to use social media. Facebook, Twitter, and Instagram are great platforms for keeping in touch with old friends and making new ones.
Do What You Are Passionate About
Doing what you are passionate about is a great way to stay young at heart. Whether painting, gardening, or volunteering, find something you love to do and make it a part of your life.
Pursuing your passions will help keep you feeling motivated and excited about life. It will also help you meet new people who share your interests.
Age Beautifully with Style
Aging doesn't have to mean giving up on your appearance and on life. By following these simple tips, you'll be on your way to aging beautifully with style even far beyond sixty. Remember to take care of yourself inside and out, dress appropriately for your age, accessorize wisely, keep fit, and socialize. So embrace your age and enjoy the wisdom and confidence that comes with it. Enjoy life to the fullest.