Whether you're traveling with family or friends, renting a house for your vacation has a lot of advantages. Not only do you have more privacy, but you also have access to fully equipped amenities to make your trip more comfortable and convenient. Here are five things to look for when renting a house for your next vacation.
A Good Location
One of the most important things to consider when renting a house is its location. You'll want to ensure it's in a safe neighborhood and close to the attractions you want to visit. If you're traveling with young children, look for a place close to parks and other kid-friendly activities.
If you're planning to go on a long summer vacation, look for a place with easy access to beaches or lakes. If you plan on going during the winter, look for a place close to ski resorts. Aside from the climate factors, you'll also want to consider the neighborhood and its amenities. Before booking your vacation, read reviews about the place and its surroundings. You can also search online for crime rates within the area.
Plenty of Sleeping Space
Another important factor to consider is the house's many bedrooms and beds. If traveling with a large group, you'll want to ensure everyone has their bed. Nothing ruins a vacation like sleepless nights trying to find a comfortable spot on the couch! You don't want to waste your vacation searching for furniture stores to rent beds and mattresses to accommodate your group.
Most rental houses have at least one bedroom with a queen-sized bed, but some offer more than two bedrooms. If you're bringing additional family members, consider looking for a house with extra sleeping space. Some may even offer bunk beds or a separate sleeping area for the kids. Before booking, check the house's sleeping accommodations on their website. Make sure that it is accurate and meets your group's needs. To ensure that the information and images on their website are accurate, read reviews from previous renters.
A Fully Equipped Kitchen
One of the best things about renting a house is having access to a fully equipped kitchen. This means you can save money by cooking some of your meals instead of always eating out. Make sure the rental house you choose has all the pots, pans, and utensils you'll need to prepare your favorite meals.
If you can't function in the morning without a cup of fresh coffee, a bean-to-cup coffee machine with a frother will surely be a winner! This appliance allows you to make cappuccinos and lattes on vacation without leaving the comfort of your rental house. Remember to check if the house has a fridge, stove, oven, microwave, and dishwasher. These are all essential, especially if you want to prepare meals for your group without going out and constantly paying for food.
Aside from kitchen amenities, you'll also want to check what cleaning supplies the house provides. This can save you time and money having to buy these items when you arrive. The essentials are a vacuum, mop, and cleaning products like soap and detergent. Be sure to clean up, especially before you leave.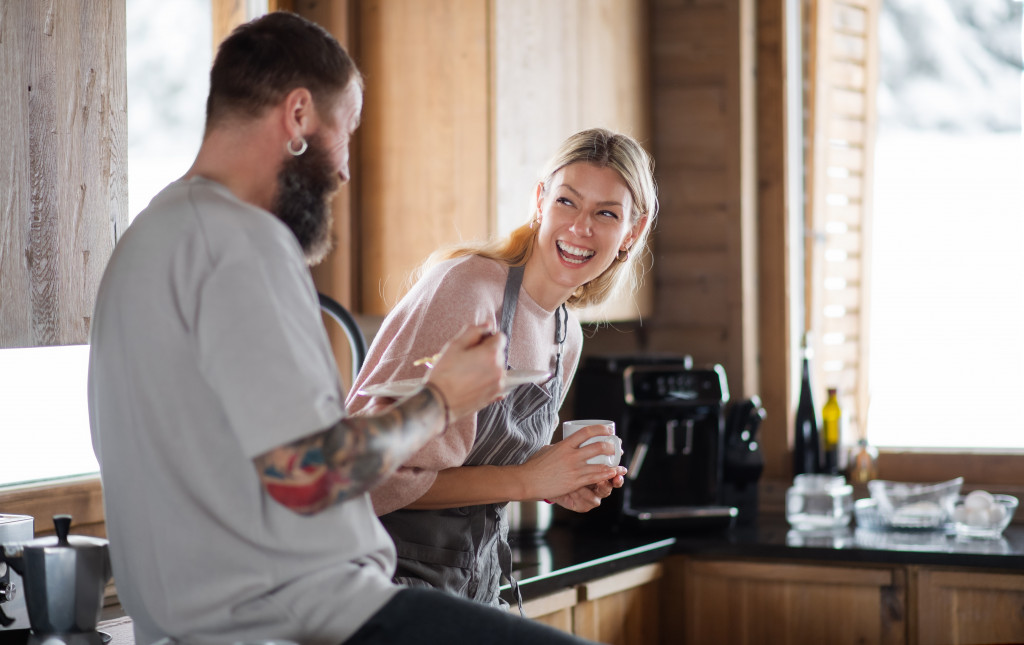 A Washer and Dryer
Unless you enjoy doing laundry on vacation (and who does?), ensure the rental house has a washer and dryer. This way, you can pack light and wash your clothes as needed throughout your trip. No one wants to come home from vacation with a suitcase full of dirty laundry! These are essential when you're staying longer and don't want to worry about running out of clothes.
Most rental houses include these amenities now, so check their website for availability before booking. You may also ask if the house has laundry detergent and fabric softener provided or if you need to bring your own. Finally, ensure all appliances are in good working condition and safe to use.
Entertainment
You'll want to enjoy downtime at the rental house when you're not exploring the neighborhood or cooking meals. Check if it has a television, Wi-Fi connection, board games, or books. If there isn't an indoor entertainment area, look for a patio or backyard where you can sit back, relax, and enjoy the views.
If you want to avoid distractions, consider looking for a house with no internet access or television. This will ensure that you and your group can fully unplug and get away from it all without the usual temptations of a home sweet home. Use the board games and books provided and catch up with each other while having fun.
When renting a house for your next vacation, there are several things you'll want to keep in mind to ensure your comfort and convenience. Keep these five essentials in mind, and you'll find the perfect rental house for your next trip!