Autumn is one of the most magical seasons of the year. It may be marked by a cold breeze, but the changing color of leaves to red, gold, and orange makes it one of the best times to enjoy warm moments with your family. You get to spend time together wearing sweaters, sipping hot apple cider.
It's time to get your car ready to hit the road. However, to truly enjoy fall, it's important that your car is ready for the elements. Consider getting some ceramic car coatings on your car to protect its paint. With that, you can finally go on some scenic driving and autumn adventures.
To help you get some ideas where to go, here are some of the best autumn destinations recommended by Travel and Leisure magazine and ranked by U.S. News Travel.
Jackson Hole, Wyoming
Jackson Hole is a beautiful town all year round. But, it is most popular during winter when ski enthusiasts flock to the area. It is also home to the Jackson Hole Mountain Resort, one of the country's top ski destinations. Ski season doesn't start until the end of November. You still have time to go now and enjoy the foliage, sans the summer and winter crowds.
Jackson Hole is also located within reach of two of the country's best national parks: the Yellowstone National Park and Grand Teton National Park. Both parks are some of the best destinations to enjoy the foliage and enjoy autumn adventures while the weather is cool and still tolerable.
Hawaii
If you still have the summer fever, head on to Hawaii. Each of its islands offers something for everyone. The farthest, Kauai, is famous for luxury and honeymoons. Oahu is preferred by party people, surfers, and the general adventurer. Maui is where you want to go if you're bringing your family.
If you want to experience the best of the state, however, stay on the main island. It is filled with landscapes that you can explore. Black sand beaches, lush rainforests, snow-covered peaks, fire-spitting volcanoes, and hardened lava deserts are all for you and your family to discover. There are majestic state parks, hiking trails, colorful scenery to visit, and many other activities and sights.
Catskill Mountains, New York
If you're from New York City or somewhere near, there's a place you can go to with the perfect fall landscape, the Catskill Mountains, just two hours north of the city.
The Catskill Mountains are full of forests, falls, and rivers with hiking and biking trails that you can explore. You can also take a train ride through the mountains to enjoy the scenery. You can also take a scenic drive through the area's small towns and villages, local breweries, and of course, the colorful landscape.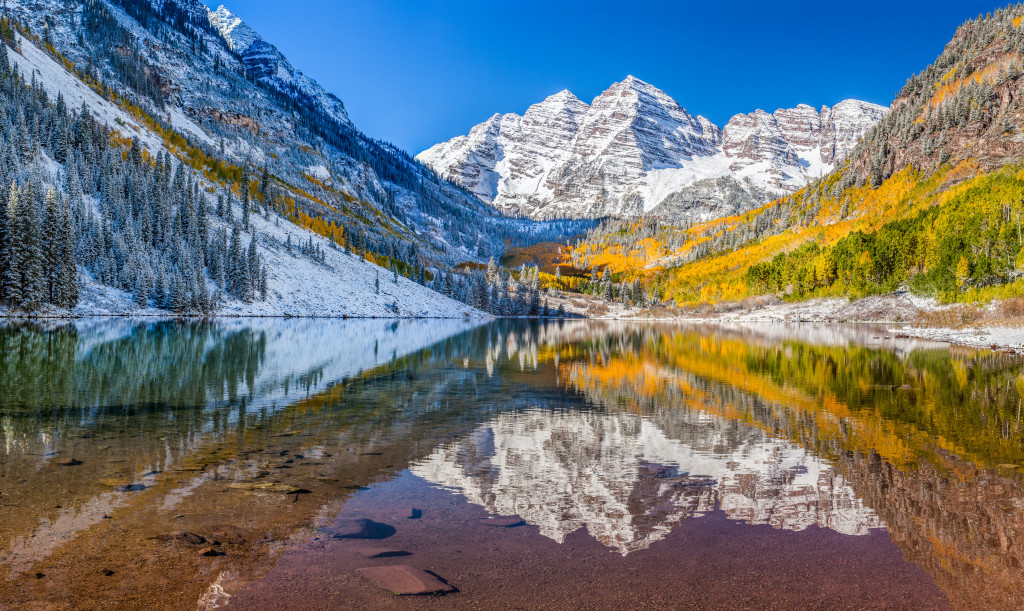 Aspen, Colorado
At the heart of the Rocky Mountains is Aspen, another ski resort town up in Colorado. However, it's not just any ski town. When you go there, you'll traverse the famous Independence Pass. At more than 12,000 feet above sea level, it is the highest pass north of the country. The drive will allow your eyes to feast on an incredible palette of autumn colors.
South of Aspen also sits Maroon Bells, the most photographed mountains in Colorado. From the town, you can also take a short drive or shuttle bus there to enjoy its foliage in full glory.
San Francisco, California
San Francisco City can get crowded during summer. Fortunately, there are fewer people during autumn. If you want to enjoy the fall foliage, but don't want to stay away from the city, San Francisco is the best destination for you.
San Francisco has parks that can make long walks enjoyable with breathtaking views of autumn. In fact, the city itself is a view of its own with its colorful neighborhoods and the unending list of activities. If you head there now, you'll be greeted by festivals, cozy cafes, world-class cuisine, and sea life.
Get Ready, But Be Safe
Since September this year and for the next few months, you'll see a unique view of foliage as each state experience its own autumn. All over the country, hickory, maple, ash, and oak trees transform before your very eyes. Whether you're a nature lover or not, you'll enjoy and appreciate the postcard-like landscape and scenery, and the numerous activities for every member of your family.
And speaking of family, kids typically go back to school during fall and adults return from summer vacations. It's a time when destinations and accommodations offer lower prices. And because of the pandemic, most schools are opening in hybrid and virtual modes. Kids have time to spare for a quick weekend getaway to enjoy the foliage.
Before you go, be sure to check with any destinations to ensure they're open when you visit. Remember that the pandemic continues to evolve. Expect travel restrictions and guidelines to change, which means you should keep yourself updated.