Investing in a quality entertainment system with large-screen, high-definition TVs, and a reliable streaming service helps attract customers.
Offering recreational amenities like bowling alleys, pool tables, and arcade games adds to the sports bar atmosphere and enjoyment.
A full-service liquor bar providing unique drinks keeps customers coming back for more.
Serving delicious snacks and meals is essential for creating an enjoyable atmosphere that customers will remember.
Professional chefs can help create an unforgettable experience by offering gourmet dishes.
Sports bars are popular among locals because they provide an ideal atmosphere for watching sports games with friends and family. Many people view the traditional sporting event experience as a bonding time, and a sports bar provides the perfect environment to watch any sport, from football to basketball or hockey. Sports bars also offer delicious food and drinks, making them even more attractive for friends and family to get together for game day.
Statistics have shown that sports bars across the United States generate about $15 billion annually. On average, each sports bar has around 1,200 customers per week. Most of these customers are young adults ages 18-24 and 40-54, with a median household income of $50,000 to $75,000 annually. Furthermore, sports fans are estimated to spend around $100-$200 for food and drinks while watching a sporting event at a bar.
As a result, you might want to start a sports bar to get a share of this lucrative market. When planning to open a sports bar, there are specific amenities that will draw customers in and keep them coming back for more. Here are a few of them:
Entertainment System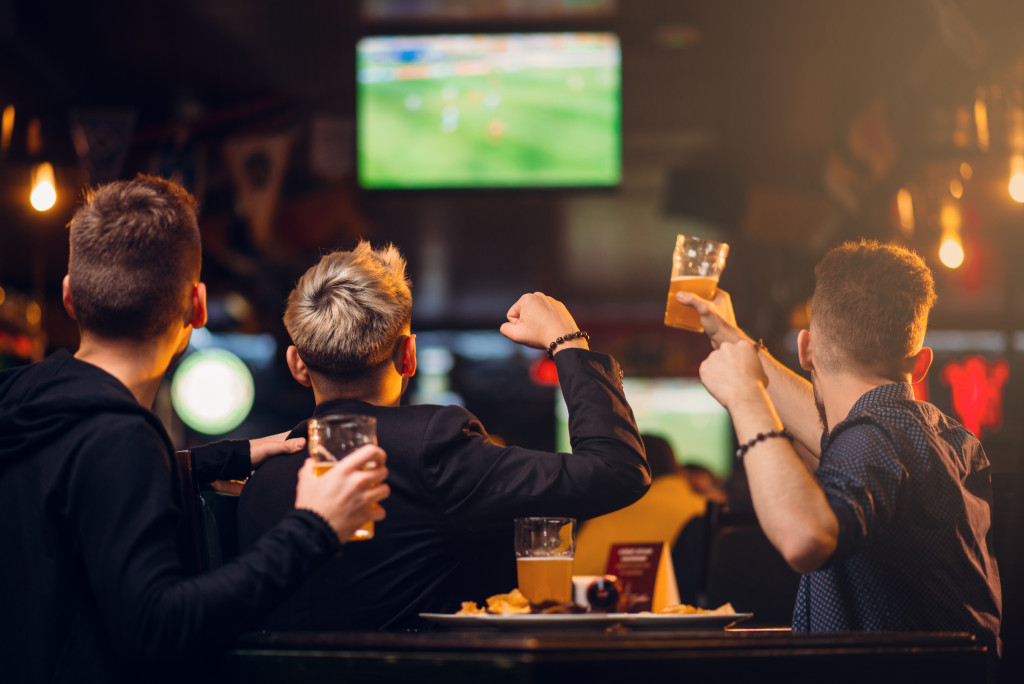 TV and audio are essential to any successful sports bar, allowing customers to watch and follow the game. Having a top-notch entertainment system helps attract guests by providing them with an immersive experience that can't be had at home.
When it comes to choosing a television setup, bigger is usually better. Sports bars should be equipped with large-screen, high-definition TVs — preferably 4K or OLED — to display games in the highest possible resolution. The number of TVs will depend on the size of your establishment, but it's best to have at least two per room to satisfy demand from different viewers.
In addition, having multiple audio solutions is essential for creating a delightful atmosphere. An excellent sound system — including surround rugged speakers and other components — ensures spectators have crystal clear audio no matter where they sit or stand. Investing in quality equipment is vital here; opting for cheaper alternatives will only lead to frustration.
Finally, having a reliable and easy-to-use streaming service is essential for any modern sports bar. Customers want access to all their favorite teams and leagues, so you must offer a subscription option that meets their needs. Streaming services like ESPN+ or MLB TV allow customers to watch and follow all their favorite games live, making them invaluable in terms of keeping customers engaged throughout the event.
Recreational Amenities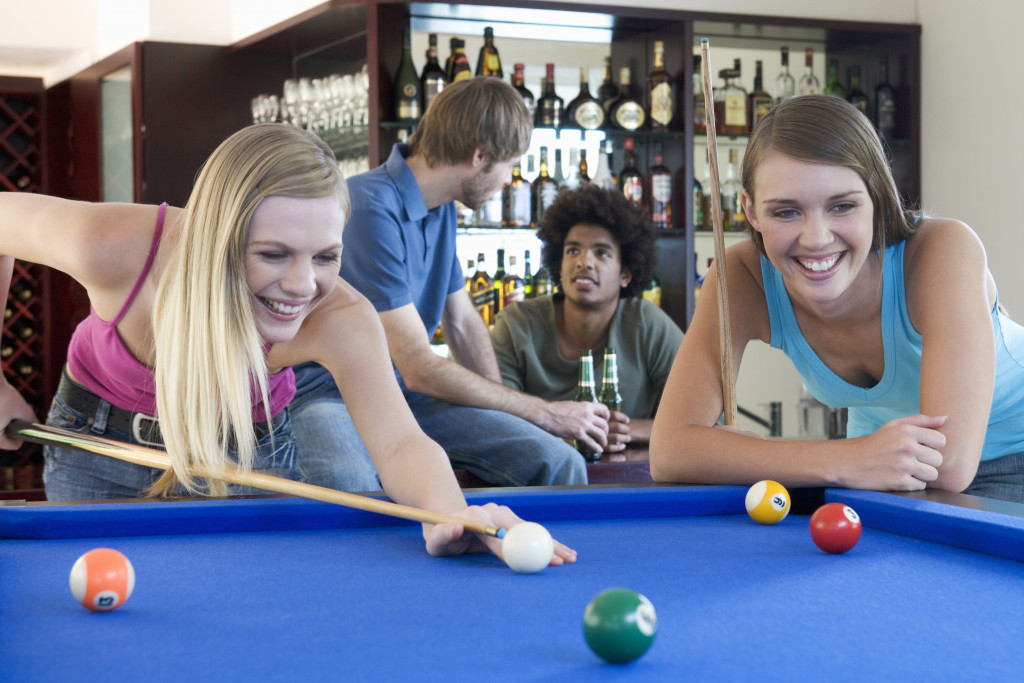 Sports bars should also offer recreational activities to keep customers entertained between games. Recreational amenities help to create a more enjoyable and immersive experience for your guests. Here are some of the recreational amenities you might want to consider offering:
Bowling Alleys
Bowling alleys provide an excellent way for sports bar patrons to enjoy themselves while keeping within the establishment's theme. Bowling is a classic pastime, and having lanes in your sports bar will give customers an exciting addition to their game-day festivities. Furthermore, with automated scoring systems and new technology, bowling alleys can provide a modern spin on this classic sport that will keep guests returning for more. You can tap the services of a bowling center construction company to help you.
Pool Tables
Pool tables are another popular choice for sports bars, as they provide an engaging activity for all ages. Pool tables can also be used for friendly competition between patrons, helping build customer relationships and loyalty. Top-notch pool tables have felt surfaces that provide an optimal gaming experience and durable construction that stands up to years of use. With proper maintenance, pool tables can last up to 10 years or longer and generate sales from returning customers who come back just for a game or two.
Arcade Games
Adding arcade games like pinball machines or video games can give customers something extra to do when they're not watching the game or playing pool or bowling. Arcade games are great for younger viewers, too; kids love playing these interactive games, and parents will appreciate having something else for their children to do while at the bar.
Karaoke Machines
Karaoke machines create a fun atmosphere in any setting — including sports bars! Having karaoke available gives patrons another option for entertainment after watching the game or playing the other activities offered in your establishment. Karaoke machines with multiple microphones allow groups of friends or family members to sing together, creating memorable moments that draw people back time and time again.
Liquor Bar
Of course, no sports bar is complete without a full-service liquor bar. Providing customers access to top-shelf spirits and craft cocktails is essential for creating a sophisticated atmosphere that keeps customers coming back. When selecting liquors for your bar, offer various options from different categories like whiskey, vodka, gin, tequila, and rum. It would be best to consider adding specialty drinks you can't find anywhere else — these unique beverages will help create an experience your guests won't forget.
Of course, you must also consider food when opening a sports bar. Serving delicious snacks and meals helps create an enjoyable atmosphere that keeps customers coming back again and again. You can offer classic pub fare like burgers, wings, sandwiches, pizza, salads, and more. Alternatively, hiring a professional chef to create gourmet dishes for your guests might be worth considering if your budget allows.
Final Thoughts
No matter what amenities you decide to include in your sports bar, one thing is clear: providing a quality experience will make all the difference in success. With the right combination of entertainment options and customer service standards in place, you'll be well on your way to creating an unforgettable experience that loyal patrons will keep returning.