Going through a few weeks of noise, dust, and discomfort is well worth the results of a home renovation. However, you can keep these negatives to a minimum by following some simple pre-construction tips.
So you've finalized your renovation plan, sealed the deal with your contractor, and purchased Sika products among other construction needs. What do you need to do to prepare your house for the upcoming renovation?
Here are some tasks to add to your pre-construction to-do list:
1. Go through the construction schedule
Whether or not you're staying in the house while construction is ongoing, it's best to acquaint yourself with the construction schedule. If you're staying in the house, knowing the project schedule will help you plan your life around it. For example, if the kitchen is going to be closed off, you can prepare meals in advance or order take-out. If the bathroom is going to be renovated, you can shower at the gym or at a neighbor's.
On the other hand, if you're staying out of the house, you will know when to pop in to check the construction progress and when it will be okay to come home.
2. Pack up your things and cover furniture
Construction is messy and you don't want your stuff to be covered in dust, or worse, be damaged amidst the chaos. Pack up your stuff in boxes like you're moving out, except for the bare essentials. Keep those accessible things away from the construction area. If you can move the furniture out of the rooms, do so. But if not, cover them with plastic to protect them against dust or paint.
3. Keep kids away from construction areas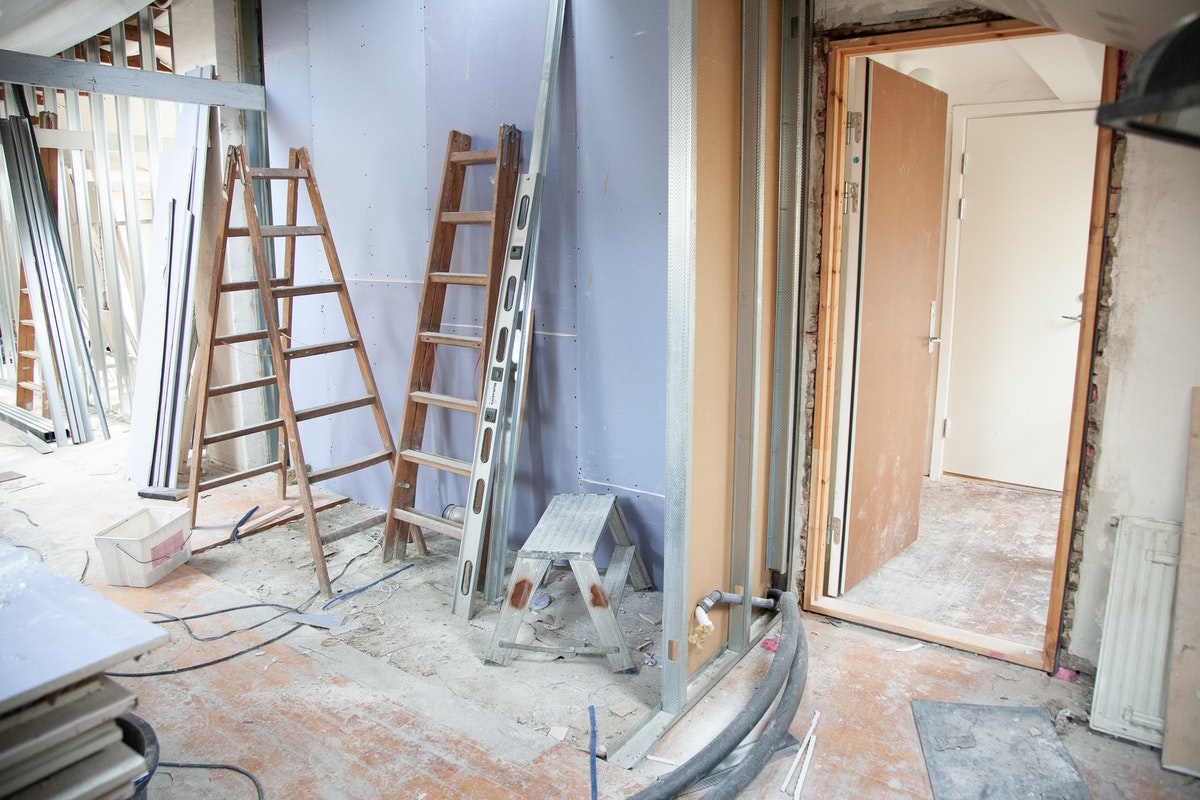 If possible, look for a daycare where you can drop off your kids every day while construction is ongoing. If they have to stay at home with you, take some extra precautions to make sure they stay safe. Install baby gates in all entrances leading to the construction area. Inform the workers of the presence of children so they know to keep the entrances closed and not to leave tools lying around. If your children are old enough to understand, ban them from going near the construction area and touching any tools or materials.
4. Set up private zones
Let's face it, you're not going to have a lot of privacy in your home with all the workers walking around. You can, however, set up private zones where renovation won't take place, at least not until the latter part of the schedule. Hang up curtains or room dividers between the construction zones and your private areas before the construction begins.
5. Gather essentials in one area
Set up a little area in your private zone where you can keep all of your routine essentials, such as your coffee maker or work PC. This way, you won't have to walk around the house and tiptoe around the contractors and their tools just to get what you need.
Finally, consider booking a few nights in a hotel or staying with a friend for a few days while construction is being done on your house. While all the tips highlighted above can help you prepare your family and your house for the renovation, it would be nice to take a break from the chaos at least for a few days.